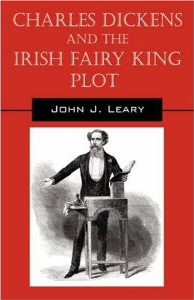 A young veteran of the American Civil War is recruited by Irish nationalists to train soldiers for another rebellion against English rule. Dylan O'Clery, with his marriage in ruins, accepts the assignment and goes to Ireland, the land of his birth.
In Ireland's rural west, O'Clery discovers that almost everyone still believes in the Fairy World. His best friend becoms involved with a beautiful girl who claims she is a princess. O'Clery meets the girl's father, the Fairy King Bodhb Derg, who lives in a palace below one of the country's majestic lakes. He is seven-feet tall and 3,000 years old.
O'Clery learns that his favorite author, Charles Dickens, is coming to Dublin for a series of readings, and that the Fairy king is plotting with Irish rebels to kidnap the famous author and hold him hostage until the country is free.
Charles Dickens is abducted and becomes a prisoner in King Bodhb Derg's palace. When negotiations to free Dickens fail, Queen Victoria herself comes to Ireland to personally meet with the Fairy monarch.