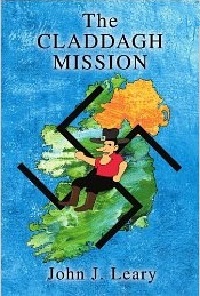 Lt. Tommy O'Shaughnessy, recent graduate of a southern military academy, is recruited by the U. S. Office of Strategic Services (OSS) to go to southern Ireland. His mission: thwart any attempt by the Nazis to capture one of the country's ports. If he fails, the Germans will sever Britain's Atlantic lifeline to America and Canada.
In a briefing before heading overseas, Tommy is warned to keep his eyes open for two potential adversaries: The Irish Blueshirts, a Fascist organization, and the Danann Brotherhood and Auxiliary. The DB&A is believed to the political wing of the Faerie World.
Tommy travels to Galway, on Ireland's west coast, where he experiences an extraordinary series of adventures in which he combats Nazi spies, is pursued by a Faerie Princess, meets a priest who practices Druidism on the side, and attends a gigantic Faerie rally at Blarney Castle.
The story reaches its climax atop legendary Dun Aengus, an early Celtic fortress guarding Galway Bay. Can Tommy prevent a German invasion that could knock Britain out of the war? Can he overcome the threat of the Faerie World to restore pagan rule to Ireland?