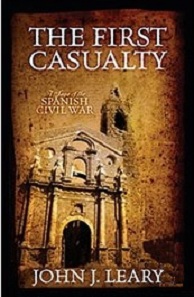 Click here to buy the Kindle version of this book.
When journalist Colin McMahon travels to Dublin to attend his parents' 40th wedding anniversary, he learns that his employer, World News Service has assigned him to go to Spain to report on the rising political tensions in that country. On the day his plane lands in Madrid, a civil war erupts, pitting the Popular Front government against the nation's military elite. While America and her Western allies remain neutral, Nazi Germany and Fascist Italy come to the aid of the rebels. The Spanish Republic receives the support of the Soviet Union.
McMahon's assignment becomes even more challenging when he discovers that his younger sister, Maureen, who has taken the position of governess with one of Spain's aristocratic families, is in danger. Then he learns that two of his brothers are fighting on opposite sides in the conflict. One is a member of the Irish Blueshirts, a Fascist organization, and the other is a young Communist.